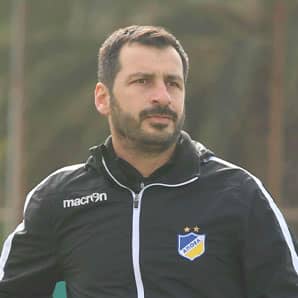 Ioakim Ioakim
Peak Performance Coach / Assistant Coach APOEL FC
Biography
I am currently an UEFA PRO procedure coach. I have a Bsc in Sports Science – Football Specificity at University of Thessally in Greece and i took part in many educational seminars in the field of football science and football training.
Currently I work as Assistant Coach at APOEL FC which I am responsible for delivering a big part of the training.
My mission is to provide football coaches with high quality football information around football science and football training, to share my philosophy about football training as a whole and not as separate parts. Football is a sport that is played with the heart but the decisions in it are taken from the mind.
Founder of CFEM www.cfem.com.cy
Creator of IOAKIM.TRAINING 
Favorite Quote: The whole is bigger than the sum of its parts
All sessions
Καλωσόρισμα
27 May, 2022
09:00 - 09:20
Μεγιστοποίηση της ποδοσφαιρικής αποδοσης
27 May, 2022
11:45 - 12:20
To be announced
Συζήτηση στρογγυλής τραπέζης
27 May, 2022
16:05 - 17:00